Barbara Eden, Beloved Hollywood Icon and Star Of I Dream Of Jeannie, a New York Times Best Seller!
(Official Release)
In 2010 Barbara reached an agreement with Crown Archetype, an imprint of the Crown Publishing Group of Random house, Inc., to write a memoir that chronicles her colorful life and a remarkable Hollywood career spanning more than 50 years. Titled Jeannie Out of the Bottle, the book released April 5th 2011 and in it's first week became a New York Times Best Seller! Now her memoir is available in paperback!
ORDER YOUR COPY NOW!
*
For updates on Barbara's schedule including dates, locations and television appearances:

CLICK HERE TO VIEW BARBARA'S APPEARANCE SCHEDULE!
FOR IMMEDIATE RELEASE
NOVEMBER 23 & 24 2013
BARBARA EDEN APPEARING AT
*
*
FOR IMMEDIATE RELEASE
BARBARA EDEN IN
OCT. 26, 2013 ONE NIGHT ONLY!
The play centers on two characters, Melissa Gardner and Andrew Makepeace Ladd III. Using the epistolary form sometimes found in novels, they sit side by side at tables and read the notes, letters and cards – in which over nearly 50 years, they discuss their hopes and ambitions, dreams and disappointments, victories and defeats – that have passed between them throughout their separated lives. (From Wikipedia)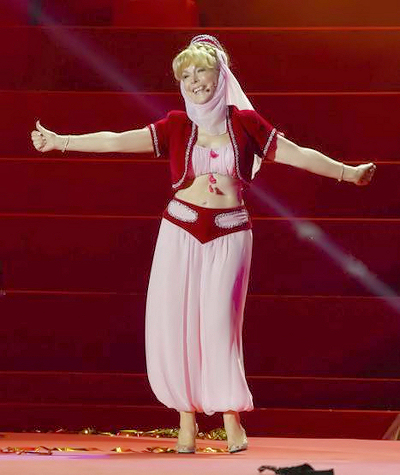 LIFE BALL 2013
May 25, 2013 Vienna Austria
Barbara don's her famous harem costume and reprises her role as Jeannie! The theme of the 2013 Life Ball was '1001 Nights.' Barbara is seen here during her on-stage appearance where she danced, blinked and charmed thousands. Fans will note her belly-button (censored by NBC executives during the run of 'I Dream of Jeannie') is on full display in this nearly accurate replica costume. Stay tuned as many more photos and video of Barbara, back in the harem costume will be added!
For more info on Life Ball visit their website.
BE SURE TO CHECK OUT ALL THE GREAT PHOTOS FROM THIS EVENT IN BARBARA'S PERSONAL ALBUM!
*
*
*
*
*
*
*
SOCIAL SECURITY
August - November 2012 Kansas City, Missouri
Barbara is seen here posing on set for an interview during her three month run at the New Theatre Restaurant in Kansas City Missouri in the hit comedy 'Social Security.' It focuses on trendy Manhattan art gallery owners Barbara and David Kahn, whose life is upended when her Mineola housewife sister Trudy deposits their eccentric mother Sophie (Barbara Eden) on the couple's doorstep while she and her husband Martin head to Buffalo to rescue their sexually precocious college student daughter.
The two introduce Sophie to suave nonagenarian artist Maurice Koenig, who offers to paint her portrait and soon begins to brighten her life in ways she never expected in her twilight years! Check out some of the shots taken on the set during the show!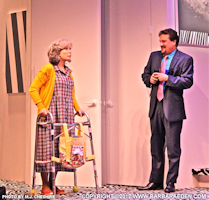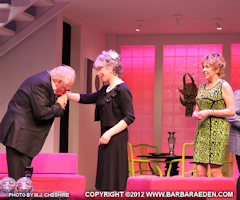 Lifetime Achievement Award
April 26, 2012 Hollywood, California
Barbara is seen here with President/CEO Hollywood Chamber of Commerce Leron Gubler, Christopher Barton and a chamber of commerce official. On April 26th Barbara was the recipient of the Hollywood Chamber Of Commerce's Lifetime Achievement Award. Barbara was presented with a large self portrait and was honored for her years of contributions to the Hollywood community and recognized for her many achievements. During the luncheon attendees were serenaded by a vocal group and watched the pilot episode of 'I Dream of Jeannie.' Click the photos below to view larger version!
An Evening with Barbara!
April 11, 2012 Larry Edmunds Book Shop, Hollywood CA
The evening of April 11th Barbara appeared at Larry Edmunds well known book shop on Hollywood Boulevard. Fans were able to sit and view the pilot episode of I Dream of Jeannie with Barbara. Afterwards Barbara answered questions and spoke about here years on Jeannie fondly recalling fun stories and sharing memories with fans in attendence.

Following the screening Barbara signed copies of her New York Times Best Selling Memoir, Jeannie Out of the Bottle. To view photographs from the evening click the photos below to enlarge them.
CLICK HERE TO READ ARTICLES AND VIEW PHOTOS FROM THE NEWS ARCHIVE.